Rolled & quick Oats
---
​​​Product Profile​
Product Origin: Alberta, Canada
ingredients:
100% non-GMO rolled oats
100% non-GMO quick oats
Specifications: 454g, 1 kg
Shelf Life: 24 months
Directions: Stove top or microwave
All About Canadian Oats
Rich in fiber and vitamins.
Contains minerals such as calcium, phosphorus, iron, and zinc contain osteoporosis: promote wound healing and prevent anemia.
Rich in linoleic acid: has an auxiliary effect on fatty liver, diabetes, edema and constipation.
Lower cholesterol in the body
Preventive effect on cardiovascular and cerebrovascular diseases
Create positive effects on: weight control, blood sugar reduction, blood circulation, etc.
​QUICK COOKING BARLEY
---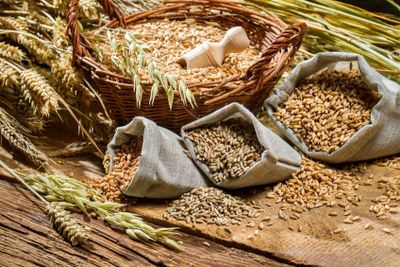 ​​​Product Profile​
Product Origin: Alberta, Canada Ingredients: Whole grain natural hulless barley
Specifications: 400g
Shelf Life: 12 months
Directions: Can be used as a staple food such as rice.
All About Quick-Cooking Barley
Time saver, ready in 10 minutes ​
Easy to digest
High fiber
Low fat
No sodium
Cholesterol-free
Suitable for all age groups.
Suitable for people with high blood sugar, pressure and fat infants, pregnant women, children, students and the elders